Easy to use, comprehensive and accurate
Our inspection Checklist books are used in virtually every industry as a key part of keeping workplaces safe, maintaining compliance and improving productivity.
INSPECTION CHECKLIST BOOKS
A strong inspection /audit progam leads to improved safety, performance and saves money on costs such as:
Property/equipment damage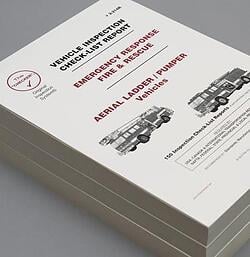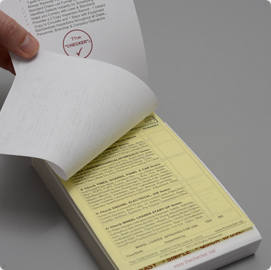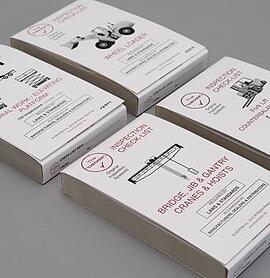 POWERFUL FEATURES
Best-in-class checklist inspection books
Our Checklists are specifically designed to inspect virtually anything used in your business with a high level of detail and accuracy.
150 inspection checklists
150 inspections in every Checklist Book. For a single-shift operation, that's more than 6 months of daily inspections.
Although each Checklist Book has specific detail, they all have the same consistent format.
Personnel have plenty of room to make important notes about inspection results.
The Checker's weather-resistant storage pouches are designed specifically for Checklist Books and are easily mountable.
Every inspection book features a carbonless-tear out copy and a permanent copy that stays in the book.
Created by safety professionals, our checklists reflect how inspections can be done most effectively and efficiently.
In addition to inspections, our checklists can be used for conducting audits and safety walk-arounds.
The inspection information gathered provides valuable guidance to management, maintenance, and safety personnel.
OPTIMIZE YOUR INSPECTION EFFORTS
5 features that encourage personnel to buy in to inspecting equipment properly — giving you results, not complaining and indifference
Circle Check Methodology

Specific & Precise

2 Different Formats

Simple & Clear
Logical "circle-check" order means items on the checklist are in the same order as they are when actually conducting inspections
Rather than alphabetize items, or list them arbitrarily, we organize the inspection items on each Checklist in a way that's practical to the people doing the inspections in the field.
Detail ensures every aspect of an inspected item is being checked
Our Checklists are designed for specific types of equipment and vehicles, with all necessary inspection items included for each particular equipment/vehicle type, described with precise terminology.
Chose to check only defects or to check all compliant items
Noting defects means inspectors don't have to check off every single item, the employees doing the inspections simply circle defects and provide brief comments about them. We also provide books with traditionally formatted check-off systems for commercial road vehicles.
Visually simple and easy to use
All our Checklists are visually simple and clear so employees can easily locate inspection items and see what needs to be inspected.
BROCHURE
We have inspection checklist books for 100s of items
Download this handy checklist to see all the inspection books available