It's been an exciting couple of years for The Checker.
Last year, we marked our 25th year in business. This year, we're celebrating the 15th anniversary of the debut of our industry-leading inspection checklist books.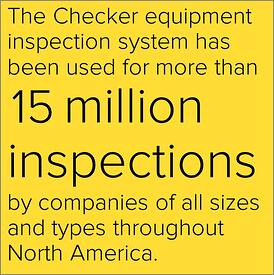 We've also been busy developing The Checker Inspection Software, which allows our customers to take advantage of mobile technology and makes it easier than ever to customize The Checker to audit or inspect virtually any asset or process.
"So what?" you might ask. If you're evaluating the value of the inspection checklist options on the market, why should you care about our history?
Because it sets us apart from our competitors. You can easily find other inspection checklist books out there, as well as inspection software, but if you research the vendors, you won't find the depth of real-world safety and inspection experience we have at The Checker.
A Brief History of The Checker
We didn't start out with the intent of producing inspection checklists. We formed as Devtra Inc. in 1989 with the mission of supplying training and consulting services to help businesses achieve safe, compliant, and effective equipment operations, material handling, and inspection maintenance.
It became clear to us as we provided these services that there was a glaring gap in the field of occupational safety—a lack of inspection checklists that actually benefited companies. Our clients often asked us to help them create inspection checklists that helped improve safety while also increasing efficiency, because no such checklists existed.
So we learned how to design checklists that would do just that across a range of industries and types of assets (equipment, vehicles, etc.). That led us to the launch of The Checker inspection checklists.
What Makes The Checker Unique?
From the start, our checklists stood out because we understood—from our training and consulting—the reality of implementing safety initiatives and inspection programs in business operations.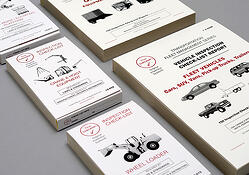 We knew first-hand the challenges involved in creating genuine safety cultures and getting personnel to do inspections as they should. But we also had seen repeatedly that when those challenges were overcome, cost reductions and productivity increases almost invariably followed.
Safety best practice—such as regular, properly conducted inspections—aren't just a moral issue. They are also smart business, reducing a range of costs and risks while also often increasing productivity. That's why every detail of The Checker is designed with two overriding goals in mind: increasing safety and increasing profits.
Is The Checker accomplishing those goals for our clients? More than 15 million inspection checklists from The Checker have been used since we began producing them 15 years ago, and usage continues to rise. We take that as a "yes!"
Takeaway
Not all inspection checklists are created equal. To learn more about why the inspection checklist you use makes a difference in the benefits you get from inspections, download our free Checklist for Inspection Checklists.