The results are in, and The Checker has won the "Inspection Checklists Books" category in the latest annual Readers Choice Awards held by OHS Canada.
The award was voted on by readers of the OHS Canada magazine and the organization's Pipeline magazine, which covers safety issues specifically related to the oil and gas industry. The fact that readers made the choice to give us the Gold award gives it special significance to us, as it reflects what those who are truly in the know think about our product.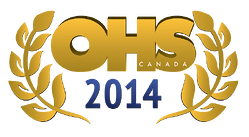 We appreciate everyone who voted for us; it is affirmation of what we firmly believe—The Checker provides the best inspection checklist books that you'll find!
One of the things that sets us apart is that we're not merely book publishers. The Checker emerged from our real-world experience with commercial equipment maintenance and industrial safety management and training. With that practical experience, we learned the type of checklist design that keeps personnel as safe as possible while reducing costs, and that's how we designed The Checker.
We're committed to continuing the excellence of The Checker inspection books, even as we introduce mobile inspection software. We know the books keep thousands of people safe every day, and they'll always be a big part of what we offer.
Takeaway
If you're already using The Checker inspection books, the OHS Readers Choice award confirms that you're using the best books out there. If you aren't using The Checker, we hope you'll listen to your peers who voted for us—they know a valuable tool when they see it!